It's an exceptional opportunity for collegiate media
Our fall convention returns to the nation's capital to celebrate, to collaborate and to learn from some of the nation's top journalists.
That includes a once-in-a-lifetime opportunity to hear from Bob Woodward and Carl Bernstein — on the 50th anniversary of the Watergate break-in.
Few journalists have influenced American history as profoundly. Their Washington Post reporting eventually led to the resignation of President Richard Nixon, and it set new standards for investigative journalism.
Their keynote is at 11 a.m. Friday, Oct. 28.
Our keynote speakers are one of the benefits of a special partnership.
This year, the Fall National College Convention transforms into MediaFest22, as Associated Collegiate Press and College Media Association join
with the Society of Professional Journalists for a shared convention at the Grand Hyatt Washington.
MediaFest22 will offer dozens of educational sessions, exciting awards celebrations, helpful critiques and an opportunity to interact with editors, journalists and fellow media students and advisers from across the nation.
You won't want to miss it this one. Plan now to join us.
Pre-convention workshops
Join us from 1-4 p.m. Wednesday, Oct. 26, for one of our pre-convention workshops.
These popular convention sessions take a deep dive into a specific topic — from podcasting and filmmaking to data reporting and design.
The cost is $50 per person, and you'll sign up through convention registration.
Career Corner
Take advantage of this convention's Career Corner, an informal career-focused networking event offered in partnership with SPJ, CMA and ACP.
So polish your résumé, prepare your portfolio and join us in DC.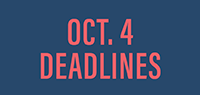 Convention registration
Take advantage of our early-bird discounts, which end Oct. 4.
(Our hotel block also closes Oct. 4.)
ACP member (student)
Early bird $150
Regular $170
CMA member (adviser)
Early bird $170
Regular $190
Nonmember student
Early bird $180
Regular $200
Nonmember adviser
Early bird $245
Regular $265
Participation in SPJ ticketed events
requires SPJ registration —
SPJ professional members
Early bird $260
On-site $460
Professional nonmember
Early bird $460
Regular $660
Convention hotel
The Grand Hyatt Washington,
1000 H St. NW, is once again
our convention hotel.
The hotel offers a $229 flat room rate for the convention, and the ACP/CMA room block closes Oct. 4 or until filled. That's the same deadline for early-bird registration.
Use this link to book
your convention hotel rooms.
The Hyatt registration system books up to two rooms at a time.
Thank you for booking at the convention hotel. Doing so gives us the best rates for our members.
Get the feedback you need
One of the most popular features of our conventions are media critiques, with constructive, common-sense feedback.
Experienced media advisers will meet with you and address your specific needs. 
You can register on site for specific insight and advice in both editorial and advertising. Bill Elsen, a former editor from The Washington Post, will continue as editor-in-residence, and Paul Bittick, award-winning veteran media director, will provide expert consulting in advertising and business.
ACP Best of Show
ACP honors current student work through its convention Best of Show competition. 
This popular awards ceremony is scheduled for Sunday morning.
The competition has two divisions —
Individual Recognition and its nine categories, with an Oct. 17 entry online deadline, and
Staff Recognition and its 15 categories, with an Oct. 28 on-site deadline.
CMA Audio & Video Festival
Plan now to submit your work for consideration for the CMA Audio & Film Festival.
Some of the nation's top student-produced work will be screened Saturday, Oct. 29.