All times below are Eastern.
The Pathable convention platform converts session times to your time zone.
Thursday, Oct. 14
11 a.m.-1:50 p.m. ET
Pre-convention workshops
2-5:50 p.m. ET
Breakout sessions
6 p.m. ET
ACP Pacemaker Awards &
Individual Awards
7 p.m. ET
Adviser reception
CMA Film & Audio Festival
Friday, Oct. 15
10 a.m. ET
CMA Advisory Committee
11 a.m.-12:50 p.m. ET
Breakout sessions
1-2:20 p.m. ET
Keynote speaker: Jerry Mitchell
2:30-6:20 p.m. ET
Breakout sessions
5:30-6:20 p.m. ET
CMA membership meeting
6:30 p.m. ET
CMA Pinnacle Awards
7:30 p.m. ET
CMA Adviser Awards
Saturday, Oct. 16
10 a.m. ET
ACP Advisory Committee
11 a.m.-12:50 p.m. ET
Breakout sessions
1-2:20 p.m.
 ET
Keynote speaker: Louisiana Rep. Ted James
2:30-4:20 ET
Breakout sessions
4:30 p.m. ET
Keynote speaker: Kathleen Flynn
5:30 p.m. ET
ACP Best of Show
Sunday, Oct. 17
No programming
Sunday, Oct. 31, midnight ET
On-demand sessions end on the Pathable convention platform
Louisiana Rep. Ted James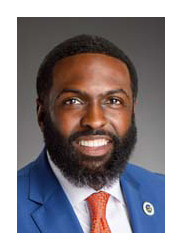 Louisiana State Rep. Edward "Ted" James' passion for leadership is driven by a deeply held desire to impact the lives of others while transforming the community he simply calls home.
The Baton Rouge native was taught at an early age the value of service, the strength of community, the importance of a quality education, and the principles of social justice. 
Upon being admitted to the Louisiana Bar, Ted began his career working in the Office of Governor Kathleen Babineaux Blanco where he was actively engaged in policy reform efforts targeted at establishing affordable housing solutions across the state of Louisiana. As the governor's policy adviser on housing and community, development Ted assisted in securing a $25 million investment into the Louisiana Housing Trust Fund. Under the leadership of Gov. Blanco, he dedicated himself to the revitalization and rebuilding of Louisiana in the aftermath of Hurricanes Katrina and Rita in 2005.
Upon completing his service in the Blanco administration, Ted worked as a staff attorney with the Louisiana House of Representatives.  In November 2011, he was elected to serve as Louisiana state representative for District 101. 
James is an avid supporter of public education and healthcare for all citizens. He prides himself on being a voice for the working people of Louisiana. In addition to his legislative duties, Ted's professional work extends to his role as an attorney, adjunct law professor, and Director of the Baton Rouge office of the Urban League of Louisiana. He enjoys partnering with various not-for-profit organizations where he is dedicated to giving back to the community by committing countless hours to mentoring students in Baton Rouge schools and sharing his acquired wisdom and knowledge by way of public speaking throughout the state of Louisiana.
State Representative James earned his juris doctorate with honors from the Southern University Law Center, where he also served as the president of the Student Bar Association. He is an active member of Beacon Light Baptist Church and Kappa Alpha Psi Fraternity, Inc. He is the proud father of his daughter, Harper Ryan James.